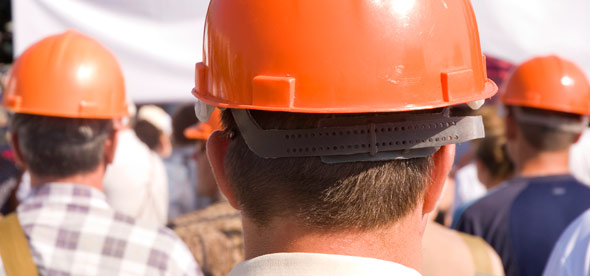 Employment and Labor Disputes
Employment and Labor Laws are a Minefield for the Unwary Employer
Today's business environment is more complex than ever.  While Illinois is an employment at will state, your business is at risk every time you make a hiring or firing decision, as there are a myriad of state and federal laws which can subject you to unexpected liability.
Our firm can defend your business against claims made by employees in court or before the Department of Labor, IDES, or the EEOC, including those involving:
Termination and severance agreements
Unemployment disputes and IDES audits
Discrimination charges filed by employees under Title VII, ADA, or ADEA
The Family and Medical Leave Act (FMLA) and Pregnancy Discrimination Act
Non-compete and non-solicitation agreements
Independent contractor agreements
Union contribution and reporting claims, wage and overtime claims, and Prevailing Wage Act claims
We also draft and review employee handbooks, including policies and procedures, while making sure that they are compliant with Illinois and federal laws. We advise clients on immigration issues related to highly skilled employees and investors, including H-1b, E-2, EB-1, and EB-5 Visas. If your business needs assistance resolving workplace disputes informally, we can help. When necessary, our attorneys provide aggressive litigation against employee claims.
If your company works with labor unions, you may need counsel for matters such as labor disputes, Fair Labor Standards Act claims, union audits, collective bargaining agreements, strikes, NLRB and State Labor Board cases, and grievances and arbitration proceedings. We understand that disputes between a business and a union can be very costly to your production, profits and reputation. Our lawyers strive to resolve these matters efficiently and effectively.
Non-competition and Confidentiality Agreements
Protect Your Most Valuable Asset – Your Customers
We often hear from clients that the conventional wisdom is that "non-competes are unenforceable."  Poorly drafted non-competes are unenforceable, but if the time and care is given to these most important agreements, then non-competes can be the strongest weapon an employer has to protect its business.  We have drafted dozens of non-compete agreements and confidentiality agreements and have successfully prosecuted them in state and federal court.  You can rely on us to prepare agreements which prevent your employees and independent contractors from taking your valuable trade secrets, including your customer lists, pricing information,  and intellectual property, and raiding your key employees.
Contact Law Offices of McLaughlin & Associates, P.C. by calling (630) 230-8434 to discuss your labor and employment issues.