COBRA Subsidy What Employers Need to Know
Published on 4/22/2021
Categories: Benefits, COBRA, DOL, Healthcare
A six-month COBRA subsidy period was signed into law on March 11, 2021 as part of the American Rescue Plan Act of 2021 (ARP).  It includes a 100% COBRA subsidy for all eligible employees and their covered dependents effective April 1 through September 30, 2021.
All Employers with a group health plan will be required to pay 100% of COBRA or State Continuation healthcare premiums for qualified individuals for this period as long as they remain eligible.  Employers will be reimbursed by the government through Medical FICA payroll tax credits.  (Please review the tax consequences with your accountant.)
Who is considered eligible for COBRA Subsidy coverage?
All individuals and their enrolled dependents affected by an involuntary discharge or reduction in work hours (does not include voluntary termination or termination due to gross misconduct), who are eligible for COBRA or state continuation healthcare coverage and who have elected continuation of coverage during the covered period.
All individuals and their enrolled dependents affected by an involuntary discharge or reduction in work hours prior to April 1, 2021 but did not elect COBRA/state continuation or who dropped COBRA/state continuation coverage because they were unable to continue paying the premiums.
---
Is My Business Essential?
Published on 3/25/2020
Categories: Business, Illinois Law
Is My Business Essential?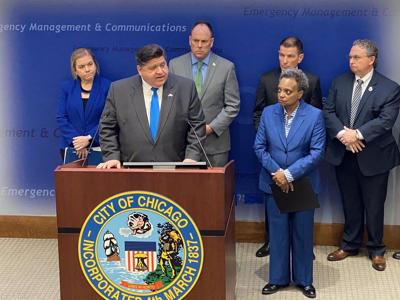 With the new normal in the State of Illinois and the US, the more pertinent question is "will I be able to stay in business?"  The short answer is a definite probably.
On March 21, 2020 Governor JB Pritzker signed into law Executive Order No. 8 Stay at Home; Social Distancing Requirements;  and Essential Business and Operations currently effective through April 7, 2020.
---
Families First Coronavirus Response Act
Published on 3/20/2020
Categories: Business, Federal Law, FLSA, FMLA, Paid Sick Leave
On March 18, 2020, President Donald Trump signed into law the "Families First Coronavirus Response Act" (H.R. 6021).  This article will address the three (3) main provisions that will affect private businesses and their employees in Illinois and the US:  the "Emergency Family and Medical Leave Expansion Act", the "Emergency Paid Sick Leave Act", and briefly I will discuss the "Tax Credits for Paid Sick and Paid Family and Medical Leave".
---
Franchisor Liability in the Face of Misrepresentation
Published on 12/19/2018
Categories: Federal Law, Franchises, Illinois Law
When considering franchise opportunities, due diligence is absolutely necessary prior to purchasing any franchise in order to protect yourself and your investment.  What are your options when a franchisor misrepresents the estimated costs to operate a franchise in a disclosure document? Specific contract language for franchise liability will help to protect franchisees from purposeful fraud or misunderstandings.
---
Non-Compete Agreements and Non-Management Employees
Published on 8/21/2018
Categories: Employment Contract, Federal Law, Illinois Law, Non-Compete Agreements, Non-Management Employees
A common question we are asked is whether employers may require non-management personnel to sign a non-compete agreement. The answer is yes, but there are limitations of which employers should be aware.  To be enforceable in the State of Illinois, the agreement must (1) have adequate consideration, (2) be reasonably necessary to protect the employer's legitimate business interest, (3) not impose undue hardship on the employee, and (4) not be injurious to the public.[1] Courts will generally determine the enforceability of a non-compete agreement based on the totality of these factors. As of January 2017, however, employers are prohibited from requiring any low-wage employees under the Illinois Freedom to Work Act to sign non-competes.[2] The Act effectively protects employees earning less than $13.00 per hour or minimum wage, whichever is greater.[3] Read more…
---
Gender Identity and the Workplace
Published on 7/23/2018
Categories: EEOC, Federal Law, Gender Identity, Illinois Human Rights Act, Illinois Law, Title VII of the Civil Rights Act, Vital Records Act
Gender identity is a protected class against discrimination under the Illinois Human Rights Act.[1] http://www.ilga.gov/legislation/ilcs/ilcs5.asp?ActID=2266 The law protects employees against discrimination in all terms and conditions of employment, including hiring, selection, promotion, transfer, pay, tenure, discharge, and discipline. To ensure compliance, employers are encouraged to participate in diversity training,[2] revise workplace policies,[3] and to promote inclusivity.
Employers should also note that the Equal Employment Opportunity Commission (EEOC) https://www.eeoc.gov/ prohibits gender identity discrimination under Title VII.[4] https://www.eeoc.gov/laws/statutes/titlevii.cfm EEOC has found that examples of unlawful discrimination include: failure to hire because a person is transgender,[5] firing an employee based on a gender transition,[6] intentional misuse of a transgender employee's new name and pronoun,[7] and denying an employee equal restroom access.[8] In interpreting the Illinois Human Rights Act, state courts look to federal law.[9]
---
Reporting Change of Address or Responsible Party with the IRS
Published on 8/07/2017
Categories: Business, Corporate, Federal Law, IRS Regulations, United States
Beginning with 2014, it is mandatory that businesses report changes in responsible parties to the IRS. For non-publicly traded entities, a responsible party is the person who has a level of control over, or entitlement to, the funds or assets in the entity that as a practical matter enables the individual, directly or indirectly, to control, manage, or direct the entity and the disposition of its funds or assets. For most small businesses, this is the primary owner of the entity.
Within 60 days of a change in responsible parties, the entity must file form 8822-B, Change of Address or Responsible Party-Business with the IRS to report the change. Although there are no direct penalties for failing to file the form, a failure to receive a notice of deficiency or demand for tax, the penalties and interest will continue to accrue, even though the responsible party fails to receive the notices.
All businesses with EINs should review their SS-4, Application for Employer Identification Number, and file Form 8822-B with the IRS to update any changes in business addresses and responsible parties, as soon as possible. Here is the link to IRS form 8822-B http://www.irs.gov/pub/irs-pdf/f8822b.pdf.
If you have any questions, please contact Ken McLaughlin at 630-230-8434.
Written By:     Bob Kovanic, MBA, CPA, Padgett Business Services
NOTE: This publication should not be regarded as legal advice or legal opinion. The content is intended for general informational purposes only. If you have any concerns regarding anything in this publication you may contact your own attorney, CPA or our law office at 630-230-8434, website www.ma-lawpc.com.
---
Paid Sick Leave Update
Published on 3/23/2017
Categories: Benefits, Chicago, Cook County, Handbook Policy, Illinois Law, Paid Sick Leave, Paid Time Off
There are several new state, municipal and county paid sick leave laws in Illinois that will affect employers' Paid Time Off policies and benefits.  Some or all may apply to your business depending on where you do business or where you have employees working.  The following is a brief description of the main points of each new law.
Illinois HB 6162 Employee Sick Leave Act:
Took effect January 1, 2017.
The Act does not specifically define Employer, so it is assumed that this Act applies to all Illinois Employers.
Employees may use their personal sick leave time for absences related to the illness, injury or medical appointments for "immediate family" (child, stepchild, spouse, sibling, parent and spouse's parents, grandchild, grandparent or stepparent).
The time to be used is the employee's personal sick leave benefits, not plan benefits, such as short- or long-term disability benefits.
The amount of time to be allowed for immediate family versus personal sick time is not defined, but should be "for reasonable periods of time".
---
How to Limit Your Liability to Subcontractor Employees for Workplace Injuries
Published on 2/16/2017
Categories: Subcontractor, Workers' Compensation
In a recent decision, Carney v. Union Pacific Railroad Company, 2016 IL 118984 (Oct. 20, 2016), the Illinois Supreme Court provided some guidance to owners and general contractors on limiting their liability to subcontractor employees in construction injury cases.  Under the common law, anyone who employs an independent contractor is generally not liable for that contractor's acts or omissions, but the hiring entity may still be liable for its own negligence.
In this case, Union Pacific Railroad Company entered into a written agreement with a general contractor, Happ's, Inc., to remove three abandoned bridges on property owned by the railroad. Under this agreement, Happ's purchased the bridges from the railroad and agreed to provide the labor, tools, and material necessary for the work. The contractor hired a subcontractor to assist with the removal. An employee of the subcontractor was severely injured during demolition of one of the bridges, when a falling bridge girder severed his legs, and he filed a negligence claim against the railroad. The court considered owner liability under three potential claims: owner control, negligent hiring, and dangerous condition on the land.
---
Major Changes to Exempt Status under the FLSA
Published on 6/17/2016
Categories: DOL, Exempt, FLSA
The Department of Labor (DOL) has made some pervasive changes to the Fair Labor Standards Act (FLSA) which will affect the minimum salary requirement for employees to be considered Exempt from overtime.
As of December 1, 2016 the DOL has raised the minimum salary for administrative, professional, and executive positions from $23,660 to $47,476 to be qualified for Exempt status under the FLSA's minimum wage and overtime requirements.  Highly Compensated Employees must be paid a minimum of $134,004 per year.  This applies to all employers no matter how small.
In addition, the Department of Labor will adjust this base salary  for administrative, professional, executive, and highly compensated employees.  Also, there are still no salary level requirements for outside sales, teachers, doctors and lawyers. Read more…
---